When one thinks of luxury living, Dubai stands out as a global hotspot where extravagance knows no bounds. Let's take a virtual tour of some of the most sought-after neighborhoods in this dazzling city that redefine opulence and refinement. As your trusted real estate partner, Silver Keys presents a curated selection of Dubai's top luxury neighborhoods.

Palm Jumeirah: Where Opulence Meets Serenity
Nestled in the azure waters of the Arabian Gulf, Palm Jumeirah is an architectural marvel that hosts an array of opulent villas and apartments. These residences not only offer unparalleled views of the Dubai skyline but also provide access to the exclusive Palm Jumeirah Yacht Club. Living here means basking in the lap of luxury with pristine beaches and world-class amenities right at your doorstep.
Downtown Dubai: The Epitome of Urban Chic
Downtown Dubai, home to the iconic Burj Khalifa, sets the stage for urban sophistication. This neighborhood seamlessly blends luxury living with cosmopolitan vibrancy. With extravagant hotels, upscale eateries, and high-end boutiques, it's a hub of refined experiences. Imagine waking up to stunning views of the city's landmarks, knowing you're at the heart of Dubai's elegance and allure.
Jumeirah Beach Residences: Coastal Charm Redefined
Experience the epitome of beachfront luxury at Jumeirah Beach Residences. This neighborhood embraces a relaxed yet lavish lifestyle, offering an array of exquisite apartments and penthouses. The allure lies not just in the homes themselves but also in the proximity to the pristine shoreline, where you can soak in the sun and the stunning vistas of the Arabian Gulf.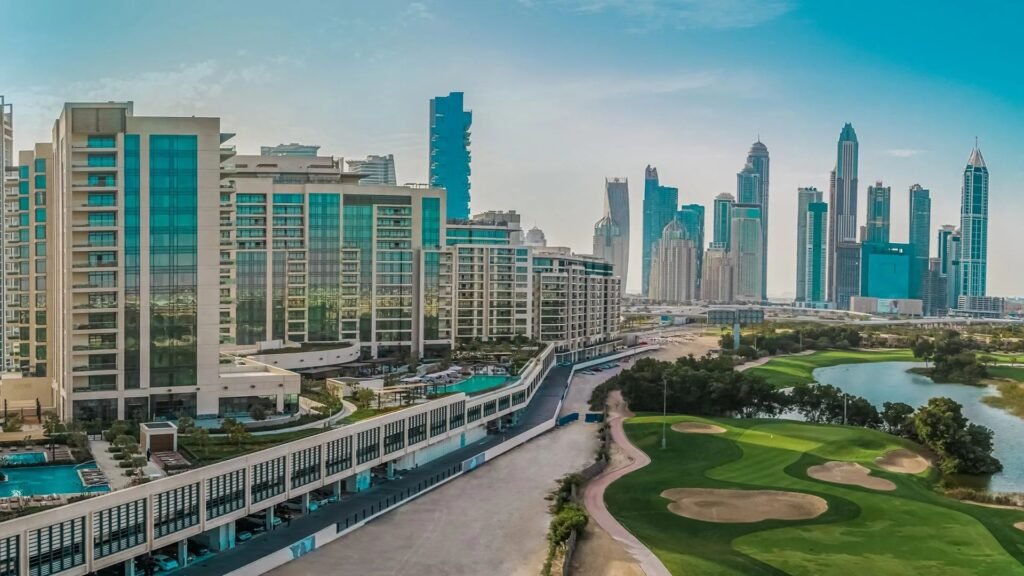 Emirates Hills: Where Extravagance Finds a Home
Emirates Hills, often dubbed the "Beverly Hills of Dubai," exudes exclusivity at its finest. With sprawling mansions surrounded by lush landscapes and a world-class golf course, this neighborhood caters to those who demand nothing but the best. A sense of prestige and luxury permeates every corner, making it a haven for the discerning few.
Al Barari: Nature's Oasis of Luxury
For those who seek luxury in harmony with nature, Al Barari offers a truly unique experience. This lush oasis amidst the city boasts lavish villas and apartments surrounded by verdant gardens and serene lakes. It's a sanctuary where luxury intertwines with the tranquility of the natural world.
Each of these neighborhoods paints a different shade of luxury on Dubai's canvas. Whether you're drawn to the coastal charm of Jumeirah or the urban sophistication of Downtown Dubai, Silver Keys is your passport to these exclusive enclaves. Our extensive portfolio ensures that your dream of lavish living in Dubai becomes a reality.
Seize the Moment of Luxury
Elevate your lifestyle by making one of these prestigious neighborhoods your home. Revel in spacious homes, stunning vistas, top-tier security, and a plethora of amenities ranging from infinity pools to world-class dining options. Dubai's luxury neighborhoods promise proximity to entertainment, education, and healthcare facilities, making it a holistic package of extravagance.
Embark on Your Luxury Journey with Silver Keys
As a trailblazing real estate agency in Dubai, Silver Keys is committed to turning your luxury living aspirations into tangible experiences. With over two decades of expertise, we've meticulously curated a collection of Dubai's most luxurious properties. Contact us today to explore these neighborhoods firsthand and find the perfect embodiment of luxury that resonates with your vision. Your gateway to opulent living awaits.